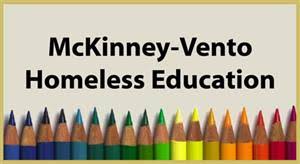 McKinney-Vento Federal Grant
What is McKinney-Vento?
Mckinney-Vento is a federal grant that ensures homeless children and youth have equal access to the same free, appropriate public education, including a public preschool education, as is provided to other children and youths.
How the grant can help students?
McKinney Vento can assist students with the following items in order to assure equal access:
School Supplies Free Breakfast and Lunch at school
Emergency School Clothing Mileage reimbursement to school related functions
Counseling Tutoring
Hygiene Products Testing Fees (SAT, ACT, etc)
Caps and Gowns School Field Trip Fees
Club Fees Athletic Uniforms Fees
Who is eligible?
Individuals who lack a fixed regular and adequate nighttime residence are eligible for assistance through McKinney-Vento. If you feel you may be eligible and need assistance please contact your school counselor or myself.